Archive for the 'interesting facts' Category
A VPS has to offer a great advantage to the people who cannot afford to get a hosting on a dedicated server and they can't use a shared hosting as well. The VPS lays between the both as it is more economical than dedicated servers and can deliver a lot better services than the shared hosting. The virtualization market continues to expand at a faster rate because of the advantages it has to offer to the users. The Virtual Private Server can be purchased from any provider available in the market who deals in web hosting and it can be used for hosting sites instead of using an actual physical storage site.
VPS has provided a great help to the website owners through reducing the costs and offering higher level of features. The VPS market has expanded a lot and the VPS is available under different types. One of the most popular types is the container based virtualization.
Container Based Virtualization
It lets the multiple instances run on the same computer where each one of these are isolated from one another and shares minimal resources. The operating systems of the host machine and the guests have to be the same in this type of virtualization. It creates a securer and isolated environment through starting the kernel of the OS. These days there are numbers of companies that are offering VPS container management options. Three of the major options for the virtualization are as discussed below:
Xen
Xen is one of the most popular and preferred options available for virtualization that allows to execute multiple computer operating systems concurrently on the same hardware. It is considered as the most secured and fastest infrastructure virtualization solution that supports variety of guest OS including Solaris, Linux, Windows etc. Some of the Key Features of Xen are:
Full tolerance capabilities
Enterprise-grade functionalities
Cost cutting and cloud computing
Offline accessibility
Performance and scalability
HD system image support
Change on the fly
Supports large systems
OpenVZ
The OpenVZ is another popular VPS container management option that can provide a good return to the companies on their investment for web hosting as it lets the hosts to place as many servers as they need without any allocations. It has a completely different architecture from the traditional virtual machines as it runs the same operating system kernel as the host system. Some of the key features of OpenVZ are:
OS level virtualization
On the fly upgrades
Easy and simple disk and network setup
Full root access
Offers a light weight virtualization, which means the availability of more resources
When nodes are underused, Burst RAM and other extra resources will stay available
Virtuozzo
Virtuozzo VPS container management is another reliable and popular OS virtualization solution that can offer a higher degree of isolation and live partitioning. It can offer a convenient help to maximize the investment in server hardware through providing some impressive features that are:
Capable enough to deliver profitable cloud services
On the fly virtual environment modifications
Can provide comprehensive integration capabilities for third party systems
Convenient and flexible management options
Advanced resource management
Operating system centralization
Dynamic library sharing
Cross CPU workload sharing
Live migration
Reduced maintenance costs
Why Select A Web Hosting Provider?
Launching a website might appear to be deceptively easy. We need to consider many aspects before publishing a website on the Internet. Selecting the best web-hosting provider should be one of our top priorities. Today, there are innumerable services that offer web-hosting solutions. How are you going to find out more about excellent website hosting services? Before we start discussing the intricacies associated with the domain, here is a brief insight into web hosting services. Access to a web server is necessary to host a website on the Internet. Instead of owning a web server of our own, it makes sense to get the same on a rental basis; and hence signing up for the services of a web hosting company is better.
Always Know The Purpose Of Web Hosting
Always give high priority to your requirements while searching for web hosting solutions. Never forget the purpose of hosting a website on the Internet. It is the duty of web hosting companies to provide tempting offers. Nevertheless, the same time, it is your duty to focus on what you require most and select an appropriate service provider. It is possible to classify the niche of web hosting into two – (a) shared web hosting and (b) dedicated web hosting. The first option is much more attractive to those who are hosting their website for the very first time or if they have nominal uses with the website. On the other hand, if the website in question is going to get a lot of online attention then it is better to stick with dedicated web hosting services.
Opting For Good Customer Support
The web hosting service that you are currently considering should offer a customer support on a 24/7 basis. If things go awry, you need to have access to advice from the experts themselves. Not many web-hosting services provide telephone support these days. Besides, speaking with someone is better any day than sending an e-mail. You need to deal with someone who exclusively offers web-hosting services only. The lucrative nature of the industry has prompted many minor players to try their luck within the domain. By following this rule, you will end up dealing with only large-scale companies who value their customers more than anything else does.
Other Insights To Be Taken Into Account
The prices might be tempting but you need to focus on the quality of service offered. Likewise, look at the features incorporated into the web server. Flexibility is one of the key factors that you need to consider when searching for web hosting services. Of course, premium quality services always come with a high price tag. An easy and fully functioning but effective control panel access to help you to have much more control over the operations of the website. Some web hosting service providers offer access to third-party control panel software while well-established players give away their own customized utilities to the clients. A little bit of skepticism will help you greatly while searching for the best web-hosting providers. Read the online reviews posted by others in order to assess the performance levels of the service provider.
We are in business for more than 3 years now, but 2011 presented unprecedented story for us.
Year 2011 brought more than 200% growth to Web Hosting and Domain Registration businesses.
Thanks for your unabated support.
We are committed to do even better in coming years with your continued trust and support.
The fact that Economic Hosting has been outstanding in providing premium web hosting is not new. It feels nice when our customer give very good feedback on our services.
Now it feels even nicer since Google is also giving tremendously positive feedback about on business.
Economic Hosting has been TOP ranked by Google for many web hosting related searches.
Have a look at following screenshots to know what Google thinks about our business.
It is a tremendous feat for our organization, especially considering that we are 3+ years old hosting company, and we are standing next to 15+ years old organizations in India as far as ranking by Google is concerned.
Following many screenshots depict only few of the dozens of keywords where we are on page 1, that too handsomely, within top 5 results of Google worldwide.
It is interesting to note than even our blog is ahead of our competitor's main website. It shows that our users like our blog as much as our committed services.
We thank all our customers for continued support that has indeed enabled us to grow tremendously in fiercely competitive industry.
We are moving very rapidly, and we are sure your support will take us to the numero-uno spot in hosting industry of India.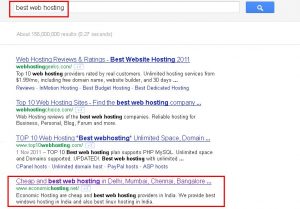 Friends, many of us get pissed off by tons of low quality hosts. Web hosting is a business that has thousands of providers, but not even dozens of them can be called "good quality" hosts.
Following is the list of parameters hosting providers should be evaluated on, before you start hosting with them:
1. Support and technical staff
This is by far the most important parameter. Lots of bandwidth and features are no good if you cant use them properly. The fact is: good technical staff can ensure very good customer experience even if they do not have very high capacity servers. One of the critical facts for them is to know capability of their servers and not flooding it with too many customers.
2. Server reliability
Unfortunately you can't judge this until you purchase hosting account. You can have a guess of the uptime, speed of the server by asking about these stats of your potential server before purchasing a hosting package.
3. Age of the hosting provider
Many new hosts provide very good service, even better than many old players. So this parameter is on 3rd spot. You have chances of getting good hosting if your hosting provider is in business for 5+ years.
4. Disk and bandwidth
Keep in mind there is no such things as "Unlimited" in this practical world." Unlimited" exists only in dreams. "Unlimited" results in Overselling, which in turn results in bad quality hosting. Make sure not to host with the provider having "Unlimited" plans for disk and bandwidth.
5. Features in hosting panel
It is very important to have reasonable features in your hosting package. Cpanel is considered to be one of the best control panels. Since most providers use it, it is easy for you to switch if you choose a host having Cpanel. Moreover, you should have at least one auto script installer like Fantastico and Softaculous. These software make your life much easier. Other features like DNS editor, shell access are nice to have.
There are other parameters like host location & php/mysql/ASP version, but these are not as important as the 5 mentioned above.
Hope this will provide you a very good evaluation sheet before choosing your new host!