Archive for the 'announcements' Category
This happens because of stricter checks in newer versions of PHP.
In any case this message is just a warning, and not a fatal error.
One option is to modify the source code of your website to handle the reported method.
Other option is to just disable the printing of warning messages.
For doing this, you have to create php.ini file in web root of your website (usually public_html in Cpanel) with following contents.
If it is already existing, add these lines at the bottom.

error_reporting   =   E_ALL & ~E_NOTICE      ; Show all errors except for notices
display_errors   =   Off   ; Print out errors (as a part of the output)

Your issue will be resolved.
We are excited to announce availability of 3 VPS hosting plans – Classic, Ultra and Performer.
Our VPS servers are located in USA.
These plans are the cheapest VPS plans available in Indian market.
You get exclusive features like daily and weekly backups, unlimited reboots and reinstalls etc. with each of the VPS hosting plans.
We are providing guarantee that our plans are the cheapest in India market. If you find cheaper plans, you are rewarded.
More information on our VPS plans is available on this page.
We are in business for more than 3 years now, but 2011 presented unprecedented story for us.
Year 2011 brought more than 200% growth to Web Hosting and Domain Registration businesses.
Thanks for your unabated support.
We are committed to do even better in coming years with your continued trust and support.
The fact that Economic Hosting has been outstanding in providing premium web hosting is not new. It feels nice when our customer give very good feedback on our services.
Now it feels even nicer since Google is also giving tremendously positive feedback about on business.
Economic Hosting has been TOP ranked by Google for many web hosting related searches.
Have a look at following screenshots to know what Google thinks about our business.
It is a tremendous feat for our organization, especially considering that we are 3+ years old hosting company, and we are standing next to 15+ years old organizations in India as far as ranking by Google is concerned.
Following many screenshots depict only few of the dozens of keywords where we are on page 1, that too handsomely, within top 5 results of Google worldwide.
It is interesting to note than even our blog is ahead of our competitor's main website. It shows that our users like our blog as much as our committed services.
We thank all our customers for continued support that has indeed enabled us to grow tremendously in fiercely competitive industry.
We are moving very rapidly, and we are sure your support will take us to the numero-uno spot in hosting industry of India.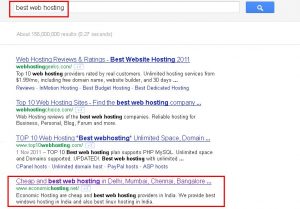 Never before offer. Applicable with our hosting plans.
We are offering 100% free CMS website design with our web hosting plans.
Highlights:
Free CMS based website Developed for you
Flat 50% OFF for life on hosting charge
1000 free backlinks to your website
This means Web Hosting +web Design+SEO promotion all bundled at only web hosting price, that too at 50% discount!!

To see details of our hosting capability: http://www.economichosting.net
Economic Hosting are providers of high quality web hosting.
We have our servers in
4 data centers
: 3 in US and 1 in UK.
Have a look at
http://www.economichosting.net
We allow limited accounts per servers
** No Overselling**
so please hurry.
This scheme is on only for a few hours: Only till 1st Jan 2011 !!
Email at support [a t] economichosting.net for more information.
Good news for our customers: We just added one more server at UK location.
Now we have 4 servers: 3 in US and 1 in UK.
Many customers wanted to have their website hosted on UK server. Thanks to all customers who are fuelling our exponential growth.
We would continue to raise the level of our service as usual.
On popular demand, we have finally decided to launch "Starter" hosting plan.
This plan provides 5 GB of bandwidth, along with sufficient email IDs and databases to get your website up instantly.
The response and demand of this plan has been tremendous. Keep the orders coming in.
Offer of the lifetime!!
Just post a comment (junk comments will be removed immediately) in any discussion on our blogs on this blog, and get free hosting account.
Free account will be offered to 1 reader every month.
The account that is given free is Business account explained at http://www.economichosting.net/plans.php
So, start the discussion on any of the blog posts now.
We are pleased to announce launch of our new website at http://www.economichosting.net.
The new website boasts of latest XHTML/CSS standard compliant design.
The backend has been kept intact, so you would be able to access your old tickets, billing and other information as usual.
Keep your feedback coming in on the new design.